>> Friday, December 14, 2012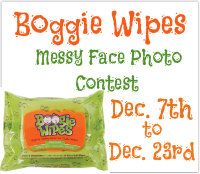 I was browsing on my Facebook account when one of the posts caught my attention. The title was
Boogie Wipes Messy Face Photo Contest Entries
which reminds me of my daughter who is really had been a messy eater. Whenever I put on her plate, she would end up having the food everywhere and all over her face and hair. Yes, every day I dealt with this kind of messiness and cuteness as well because she doesn't have any idea of how cute she became.
Click HER Messy Face to vote
Since this contest had been her first time, I'm asking each one of you to help me out get $25 for Joella to buy her something special if she wins. I would really appreciate your help. All you need to do is visit this
page
and look for her (she's at the very bottom of the voting page). Her name is Joella.
Voting will end on Friday, December 23 at 11:59 pm EST!So, keep voting friends!
Thank you and happy holiday everyone!
---------------------------------------------------------------------------------------------